Welcome you all to visit Taka Museum. It is the only specialized museum on numismatics in Bangladesh. Its main objective is to show the glorious history of coins and currency of Bangladesh from ancient to modern period along with the different currencies of other countries of the World.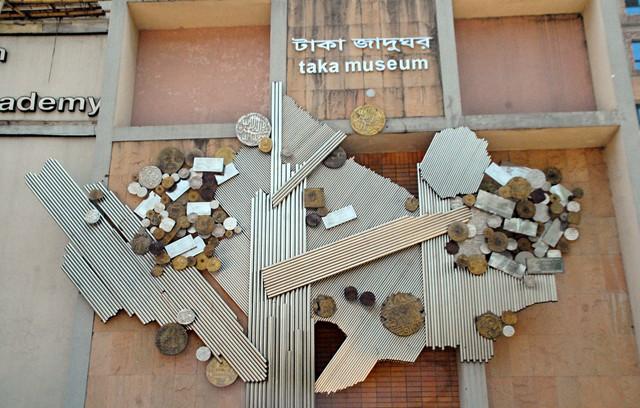 Aspects: The main aspects of Taka Museum are to collect, preserve, display and research the monitory tradition of Bangladesh. Taka Museum also discovers the untold history of the currencies through various kinds of research and publications. Here coins and notes with relevant objectshave been displayed attractively with detail information. Another important aspect of the museum is to foster the history of money to the common people by the displayed objects and provide the visitors immense pleasure.
History: Taka Museum was established first as a Currency Museum in 2009 at the 3rd floor of the main building of Bangladesh Bank at Motijheel. But that was not open to all. Considering the importance and necessity Dr. Atiur Rahman, honorable governor of Bangladesh Bank took the initiative to establish a full fledge currency museum in 2012 equipped with modern digital facilities, technology, architecture & art so that the glorioushistory and traditions of our currency can be preserved in a befitting manner. Later on this currency museum was named as Taka Museum.
Taka Museum started its journey on 27 April, 2013 with the foundation stone laid by Sheikh Hasina, honorable Prime Minister of the Government of the People's Republic of Bangladesh. The museum was inaugurated formally on 5 October, 2013 by Dr. Shirin Sharmin Chowdhury, honorable Speaker of the national assembly. From then the museum is declared open to all.
Activities: Taka Museum collects, preserves and conserves, displays and ensures the Security and documentation of the objects. It also arranges seminar, symposium and do research works related to the history of coins. Taka Museum has few publications also.
Future Plan: 2nd floor of Bangladesh Bank Training Academy (BBTA) has been allocated for the extension works of Taka Museum. A Library, a Conservation Laboratory, a multipurpose Cineplex cum auditorium and a corner for children will be established there.
Visitors: Since the inauguration of Taka Museum on 05 October, 2013 a number of visitors including School children, VIP's from home and abroad and many others have visited Taka Museum.
Prohibition: Prohibition: Bearing food, gold ornaments and any kind of arms or explosives are strictly prohibited in Taka Museum.
<< Back