Former Governor
Mr. Dr. Atiur Rahman Former Governor, Bangladesh Bank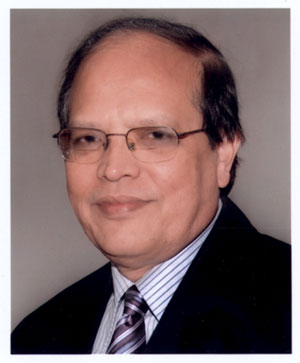 Dr. Atiur Rahman appointed as the 10th Governor of Bangladesh Bank, on May 2005 to March 15, 2016. Dr. Rahman has been a renowned economist in his varied roles as a University Professor, researcher, banker and a leader in pro-poor, environment-friendly and gender-sensitive development paradigm. Prior to his assumption of the office of the Governor, he was a Professor of Economics in the Department of Development Studies (2006-2009), University of Dhaka, and Chairman of the Board of Trustees of Shamunnay, a centre for excellence in development research in Bangladesh. He also served as the Chairman of the Board of Directors of Unnayan Shamannay, a non-profit organization for research, development and cultural learning. His previous roles also include Director of Sonali Bank, the largest commercial bank in Bangladesh, Chairman of the Board of Directors of Janata Bank, the second largest commercial bank in the country and a long tenure as a Senior Research Fellow at the Bangladesh Institute of Development Studies (BIDS). He conducted various research works on economic development and published extensively on the micro-finance revolution in Bangladesh. For many years, Dr. Rahman also steered the Credit Development Forum (CDF) in Bangladesh as Chairman. He has been a known public face advocating for more humane development including pro-poor participatory budgeting. He is considered an authority on matters related to the fiscal budget in Bangladesh. Born in 1951, Dr. Atiur Rahman studied at Mirzapur Cadet College for his secondary and higher secondary education, followed by his undergraduate and graduate studies at the Department of Economics of the University of Dhaka where he obtained his B.A. (Honors) and M.A. in Economics, achieving academic distinctions at all levels. He was awarded the Commonwealth scholarship and went to the School of Oriental and African Studies (SOAS), University of London to pursue his M.A. and Ph.D. in Economics (1983). His PhD thesis "Peasants and Classes" published later as a book by the Oxford University Press is an acclaimed reference book in development research. Subsequently, he was awarded a Commonwealth Development Fellowship at the University of Manitoba in Canada (1989), a Ford Foundation Post Doctoral Fellowship at The University of London (1991-92), and a Visiting Research Fellowship, at the Institute of South-East Asian Studies, Singapore (1998-99). He was also a visiting/adjunct professor in a number of universities, both home and abroad.
Besides, he has been directing a number of socio-cultural organizations including Biswa Sahitya Kendra and Monajatuddin Smriti Sangsad. He served as Project Director / Team Leader on 22 international and 58 national projects related to socio-economic development and participated in 75 international and around 250 national workshops. He also served as the General Secretary of Bangladesh Economic Association and as a life member of Asiatic Society, Bangladesh and Bangla Academy.
Dr. Atiur Rahman is a champion of indigenous development paradigm rooted in the Philosophy of Rabindranath Tagore that has a strategic thrust on agricultural and rural development for the predominantly agrarian and rural Bangladesh. He is an eminent expert on poverty alleviation and one of his major research areas is poverty alleviation of char (shoal) dwellers.
Dr. Rahman has also distinguished himself as a popular newspaper columnist on poverty, public expenditure, economic development, public welfare and other socio-economic issues. His published books total 45 as of 2009 of which 16 are in English and 29 are in Bangla. Besides, he has published dozens of papers in national and international journals. For his outstanding contribution to the society, he achieved many awards including the prestigious Atish Dipankar Gold Medal (2000) and the Chandrabati Gold Medal (2008).
Dr. Rahman is married to Dr. Shahana Rahman, Professor of Pediatrics, Bangabandhu Sheikh Mujib Medical University and they have been blessed with three daughters: Arno Kamolika, Orchi Madhurima and Prokriti Shyamolima.